PDD 2014
Thriving with Chaos. Adapting to Change.
Friday, Oct. 17, 2014, 7:30 a.m.- 4:30 p.m.
During this one-day program, participants will learn how to overcome chaos and change through project management. This event includes breakfast and lunch at the Kirkwood Hotel.
PDU's: 7.0
Jay Goodin will discuss the process to plan and build the new UI Children's Hospital and a System of Care for Iowa's Children.
Rick Morris will take his time-tested successful approach to project management and break it down for you in manageable pieces so that you can not only learn each concept, but also be able to apply it immediately after the seminar.
The Kirkwood Center
7725 Kirkwood Blvd.SW
Cedar Rapids, IA 52404
Download our flyer PDD 2014
Registration ends October 10, 2014
Register online at www.pmieasterniowa.org
 The New UI Children's Hospital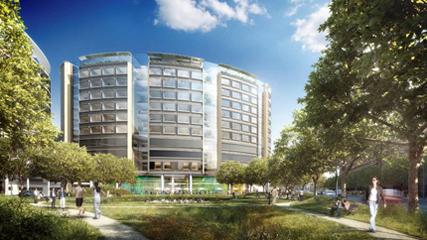 Jay Goodin, Director, Project Management, Capital Management, University of Iowa Hospitals and Clinics, will discuss the process to plan and build the new UI Children's Hospital and a System of Care for Iowa's Children. He'll provide an inside look at the new, $292 Million, 134 bed UI Children's Hospital from project inception through design, construction, commissioning and occupancy.
Hear project team members speak about a variety of topics relating to the integration of the project with the existing hospital, patients, families, and the greater community. Learn how the project team adapted to major changes during planning, the important role that mock-ups play in the design process, the challenges and logistics associated with constructing on a congested site, construction techniques required to construct a modern hospital and more. This project story isn't complete without the human component; Jay will also talk about the heart-felt connection between the contracting community and the pediatric patients that inspire them.
Project Management That Works!

Rick Morris. He is back by popular demand! Rick Morris got rave reviews for his session at our 2011 PDD. This year, Rick will take his time-tested successful approach to project management and break it down for you in manageable pieces so that you can not only learn each concept, but also be able to apply it immediately after the seminar. This will not be the latest fad or psychology, but a simple, time-tested, experience based method to communicate with the entire project team from stakeholders to team members. The techniques will be applicable for internal project managers to consultants, and everywhere in between.
Rick will not "lecture" about proper project management techniques, instead he will inspire by sharing some very personal experiences of both success and failure. Come to a true lessons learned session from one of the rising names in the project management industry!
Early-bird rates until Tuesday, September 16, 2014:
$110 Full Time Students - must show current student ID at event
$179 Eastern Iowa Chapter Members *** You must login to receive the member rate ***
$199 Non-members/guests
Regular rates after Tuesday, September 16, 2014:
$130 Full Time Students - must show current student ID at event
$199 Eastern Iowa Chapter Members *** You must login to receive the member rate ***
$219 Non-members/guests
The Kirkwood Center
7725 Kirkwood Blvd.SW
Cedar Rapids, IA 52404
Please thank our sponsors!
Gilbane

 PLATINUM SPONSOR: Gilbane is one of the nation's oldest builders. The company was founded in 1873 by William H. Gilbane and his brother Thomas as a family-run carpentry and general contracting shop in Providence, Rhode Island. Originally known as William H. Gilbane and Brother, the firm quickly developed, building some of the homes in Providence. New projects soon followed, including churches, hospitals and other public buildings that are still in use today.

The University of Iowa, Tipple School of Management
PLATINUM SPONSOR: The programs of the University of Iowa's Henry B. Tippie College of Business are built on the principles of integrity, innovation, and impact. These three words describe and inspire what we do here at Iowa. It's what we call The Power of I. Iowans are known for their strong work ethic and at the Tippie College, it's no different. Our programs are challenging, and to succeed at Iowa, students must be dedicated and hard-working. But, it's about a lot more. It's about innovative programming and research that change the way we look at business. And, it's about the impact that we have on our students, our alumni, and our communities that demonstrate the value of the Tippie experience.
Transamerica
GOLD SPONSOR:  " With a history that dates back over 100 years, the Transamerica companies are recognized as leading providers of life insurance, savings and retirement and investment solutions, serving millions of customers throughout the United States and Canada.

Transamerica works to Transform Tomorrow® for those who entrust its dedicated professionals with their financial needs, helping them take the necessary steps to achieve their long-term goals and aspirations. Transamerica's 10,000 employees serve nearly every customer segment, providing a broad range of quality life insurance and savings products, individual and group pension plans, as well as asset management services. In 2013, Transamerica fulfilled its promises to customers, paying over $6.5 billion in benefit claims, including return of premiums paid.

Transamerica's corporate headquarters are based in Cedar Rapids, Iowa and Baltimore, Maryland. Transamerica employs nearly 150 in its Project Management Office throughout some of our major locations across the country. "

 
Pearson
SILVER SPONSOR: Pearson is working to deliver real results that break through the challenges in education today. Pearson partners with educators to develop new personalized ways of learning through effective, scalable assessment and instructional tools, enabled by technology and supported by services. Together, they are improving learning outcomes and transforming lives.
Tata Consultancy Services
SILVER SPONSOR: Tata Consultancy Services (TCS) offers a consulting-led, integrated portfolio of IT, BPS, infrastructure, engineering and assurance services. A part of the Tata group, India's largest industrial conglomerate and most respected brands, TCS has over 305,000 of the world's best-trained consultants in 46 countries. Recognized by Forbes as one of the world's most innovative companies, TCS is the fastest growing IT Services brand in the world.
Baker Group
BRONZE SPONSOR: Founded in 1963, Baker Group is Iowa's premier full-service specialty contractor.  We design, install, and service piping, plumbing, compressed air systems, sheet metal, HVAC, building automation, security, access control, video cameras, fire alarm, parking and revenue management systems.  With over 525, Iowa-based employees, our team is focused on the construction of highly technical buildings.  From hospitals, educational facilities, and corporate office buildings, to data centers, industrial facilities, and much more, Baker Group provides our customers with unparalleled service and the highest quality craftsmanship.  With Baker Group, you can always "Expect the Best".
 
Modis

BRONZE SPONSOR: Every day, Modis helps top project management professionals just like you connect with exceptional companies. By staying right in the center of the ever-changing world of technology, Modis connects you with the very best temporary and permanent opportunities for a variety of roles. By keeping our finger on the pulse of the IT staffing industry, Modis keeps you up to date with the latest workforce trends and information that can help guide your Project Management career. We look forward to being a part of your success!
randstad technologies

BRONZE SPONSOR:  Randstad Technologies creates the talent-driven strategies that help our clients stay competitive in the marketplace.  We understand that every business has a unique set of challenges and opportunities and we leverage our unique industry insights, honed through decades of experience in the technology sector, to deliver the talent and solutions necessary to achieve each client's specific goals.

As the third largest technology and solutions provider in the US, our track record speaks for itself.  From connecting clients to the expert technology talent they need, providing strategic technology consulting services, to jump-starting and completing stalled projects, or allowing them to outsource a fundamental technology function, we help companies become more efficient and reduce millions of dollars' worth of costs.  Backed by our high-impact professionals, we deliver tangible and meaningful results powered by solutions that help create, innovate and lead change.

Our focus on long-term partnerships- with both clients and candidates- helps us see our world at 360 degrees to continually refresh and deepen our industry expertise.  With this deep understanding we generate the solutions that match and surpass business and career objectives.
Shivehattery

BRONZE SPONSOR: Shive-Hattery is a consulting architecture and engineering design services firm focusing on education, commercial, government, industry, healthcare and telecommunication clients. Recent area projects include Cedar Rapids Schools Educational Leadership Center; DuPont plant expansion; Westdale Mall Redevelopment, and Utilities for the new Children's Hospital at the University of Iowa Hospitals and Clinics Shive-Hattery has been ranked Best Engineering Firm in the Corridor seven years in a row by the Corridor Business Journal and is nationally ranked 208 in Engineering News Record's Top 500 firms and 22 in top engineering/architecture firms in Building Design and Construction's 2013 Giants 300 Report.
St Ambrose University

BRONZE SPONSOR: St. Ambrose University is known throughout Iowa and the Midwest for the excellence of its educational experience and the quality of its graduates. Professional Development at St. Ambrose University offers non-credit training programs in a variety of topics. Classes include Project Management, Leadership and Supervisory Skills, and Grant Writing. Customized training programs are also available. St. Ambrose University Professional Development is academically based with real world applicability. Graduate education at St. Ambrose University serves students and society by offering dynamic programs where knowledge and professional practice are advanced in a community of learners. St. Ambrose offers a broad range of master's degree programs to meet the growing need for well-trained professionals around the country. Programs include MBA, Organizational Leadership, IT Management, Accounting, and a Doctor of Business Administration.
TEKsysmtes

BRONZE SPONSOR: People are at the heart of every successful business initiative. At TEKsystems, we understand people. Every year we deploy over 80,000 IT professionals at 6,000 client sites across North America, Europe and Asia. Our deep insights into human capital management enable us to help our clients achieve their business goals—while optimizing their IT workforce strategies.  With 106 locations throughout North America and local presence here in the Iowa market from the Quad Cities, Cedar Rapids and Des Moines offices.  The areas of expertise we support are Applications, Network, Infrastructure, and Telecommunications through our IT Staffing and Services.  With 30 years of success TEKsystems has grown to be the number one IT Staffing and Services company.
Triple Constraint

BRONZE SPONSOR: Triple Constraint® was incorporated in 2005 as a Project Management Improvement company specializing in helping organizations realize business objectives through the implementation of Organizational Project Management Best Practices. Since 2005, Triple Constraint has helped organizations across North America improve organizational project management through assessment, training, and consulting services. Triple Constraint assists organizations in maturing organizational project management processes using the Organization Project Management Maturity Model (OPM3®), Capability Maturity Model Integration (CMMI), and the Portfolio, Program and Project Management Maturity Model (P3M3). CEO – J. Alan Northrup, PMP, MA, OPM3CC, TOC is the CEO and Principal Consultant with Triple Constraint®, Inc. He is a former US Army Officer and has served as an Executive, Senior Manager, Program Manager, and Project Manager in the Aerospace Engineering, Telecommunications, and Educational Industries. A graduate of the University of Iowa, J. Alan Northrup holds a degree in Management Science. He is certified as a PMP through the Project Management Institute and an original OPM3® team member and OPM3® Second Edition Core team member. He is trained in CMMI through the Software Engineering Institute at Carnegie Mellon University and teaches project management courses as an adjunct professor with the University of Iowa, Tippie School of Business.
United Fire Group

BRONZE SPONSOR: United Fire Group, Inc., together with its subsidiaries, provides insurance protection for individuals and businesses in the United States. The company operates in two segments, Property and Casualty Insurance, and Life Insurance.  The company sells its products through a network of independent agencies. United Fire Group, Inc. was founded in 1946 and is headquartered in Cedar Rapids, Iowa.
Weitz

BRONZE SPONSOR: The Weitz Company is a national full-service construction firm operating as general contractor, design-builder, and construction manager.  Customers gain all the benefits of industry knowledge, partnerships, and resources, when working with a company having 159 years of history.  Weitz serves the markets of commercial and industrial construction in Eastern Iowa and beyond, with 16 office across the United States, including Guam.   At Weitz, we focus on exciting the customer by taking care of cost, quality, schedule, and safety.  All of these combined benefits allow Weitz to provide solutions for your upcoming construction needs.